이로플러스 Yirro-plus (에어분사미러)
본문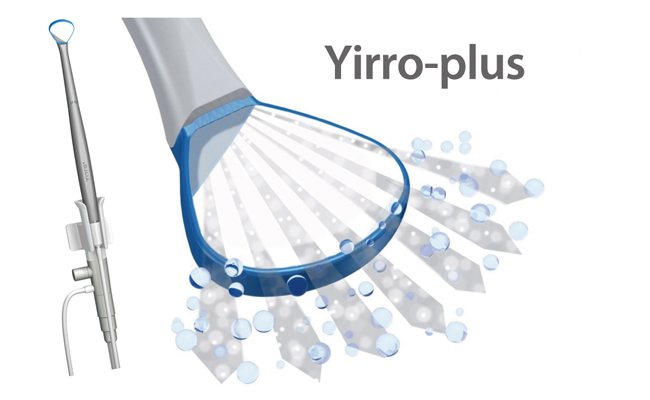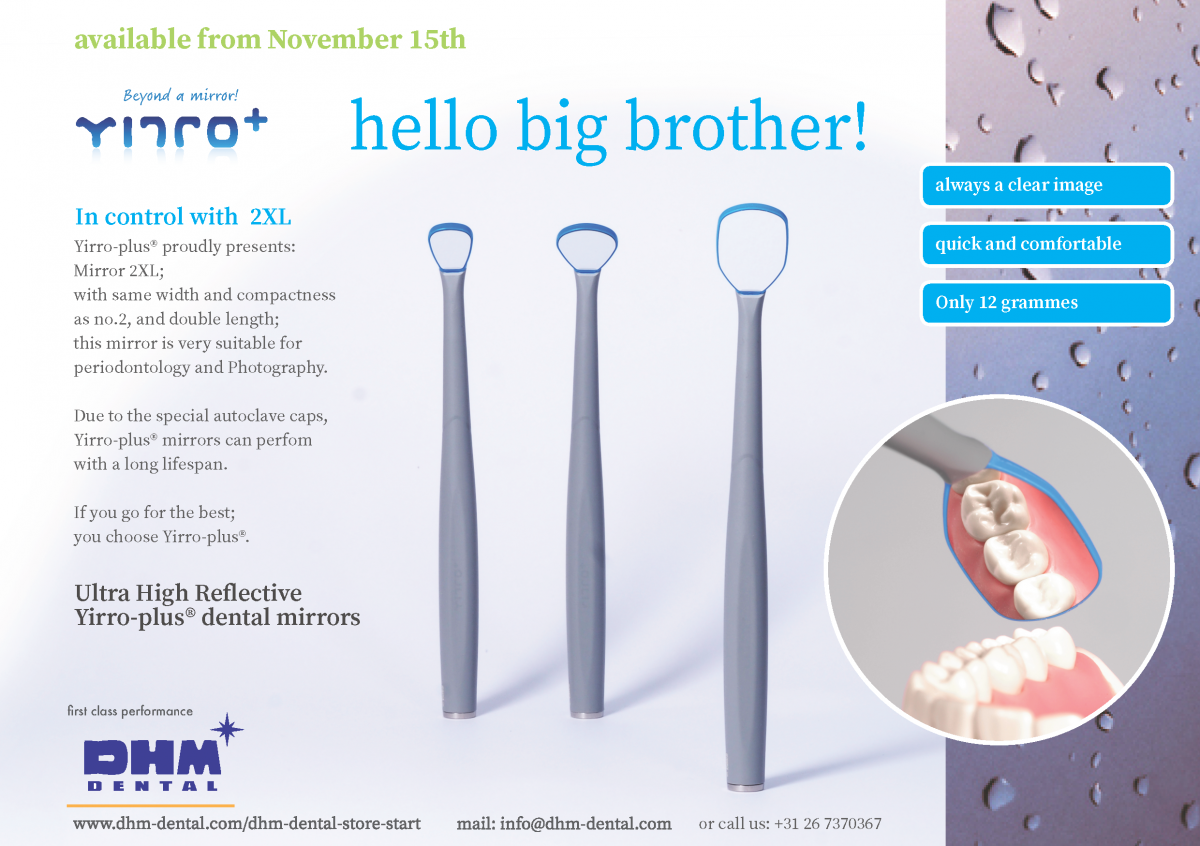 Yirro-plus® mirrors are dielectric coated mirrors with UHR surface; available in 3 sizes:
no.0    (13.0 x 16,4 mm – very practical at back molars)
no.2     (18.2 x 16,8 mm – for general dentistry)
no.2XL (29.9 x 16.8 mm – for periodontology / photography) 
  ■​ 이로플러스(Yirro-plus) + 로타고(Lottago) = "1인 시술가능"​
​  ■ 로타고(Lottago) = 석션 + 턱지지대​​
​  ■ 특허번호 NL1040090​​
​
 ◈ 거울표면에 공기분사로 물방울, 이물질 부착방지하여 항상 선명한 시야유지
 ◈ 다층유전체코팅(multilayer dielectric coating) 기술에의한 매우높은 반사율 98%
​ ◈ 전반사미러(front surface mirror)로 이중반사,굴절등의 이미지 왜곡이 없어 미세현미경, 루페등에서 특히 유용
 ◈ 7번치아 디지탈부위 프렙시 치료공간 및 시야확보
 ◈ 로타고 Lottago(석션+턱지지대, 핸즈프리석션)와 사용시 "1인진료 가능"  
​
WHY A BRIGHT MIRROR?
Did you know that a front surface Rhodium mirror reflects 76% of the light but even then, only 58% of the light is reflected back into your eyes?
When using front surface dielectric mirrors the result is far better: 98% of the lamp light is reflected. This is important for a micro dentists, who suffers from extra loss of light, due to the image being transported by plural mirrors.
As shown below,  the use of UHR mirrors is extremely efficient. When using UHR mirrors, the luminance of your working field can be significantly less, which decreases your eye fatigue.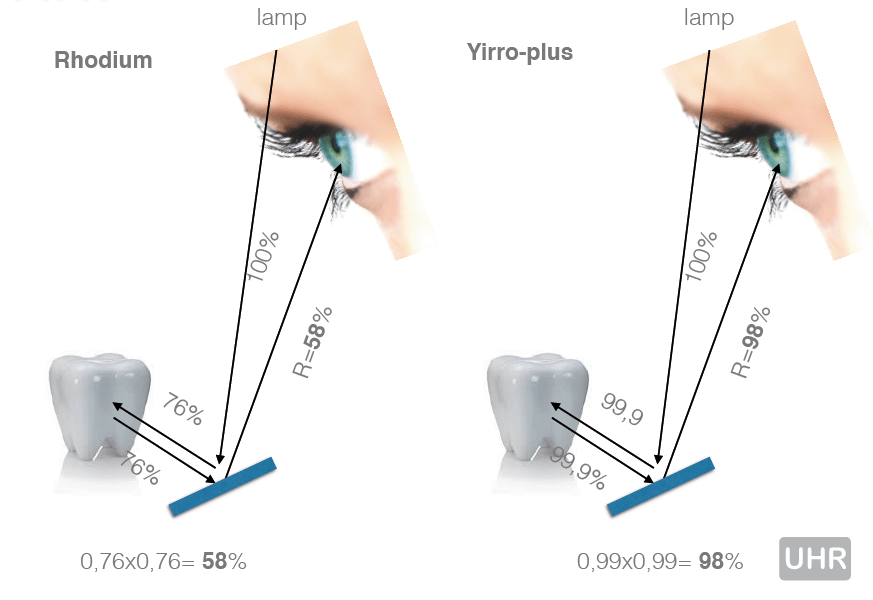 DIFFERENT TYPES OF REFLECTION
Here you can compare a variety of different mirror coating, showing differences in quality of reflection. In below graph, the reflection percentage (%) in relation to the visual spectre of light (lambda) is presented. Some coatings, i.e. Rhodium, perform with a good reflection in the blue-purple section of the visual spectre but show a significant lesser result in the orange-yellow section. The best reflection is offered by dielectric coatings; these perform with extreme good results varying  between 98% and 99,9%. The exact result is depending on the amount, quality and type of the layers. (See tab 'dielectric principle' for more information)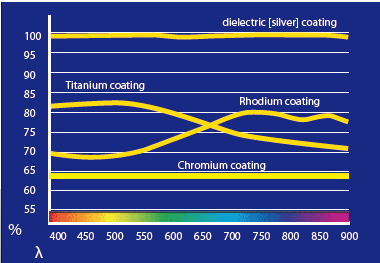 DIELECTRIC PRINCIPLE
The basic principle of the dielectric coating is the cooperation of many coating layers; each layer is designed to reflect only a specific part of the visual spectre, consequently letting through the rest of the light. All layers cooperate together – and as long as the whole spectre is covered by all layers, and the quality of all layers is good, all the light is reflected.
​
​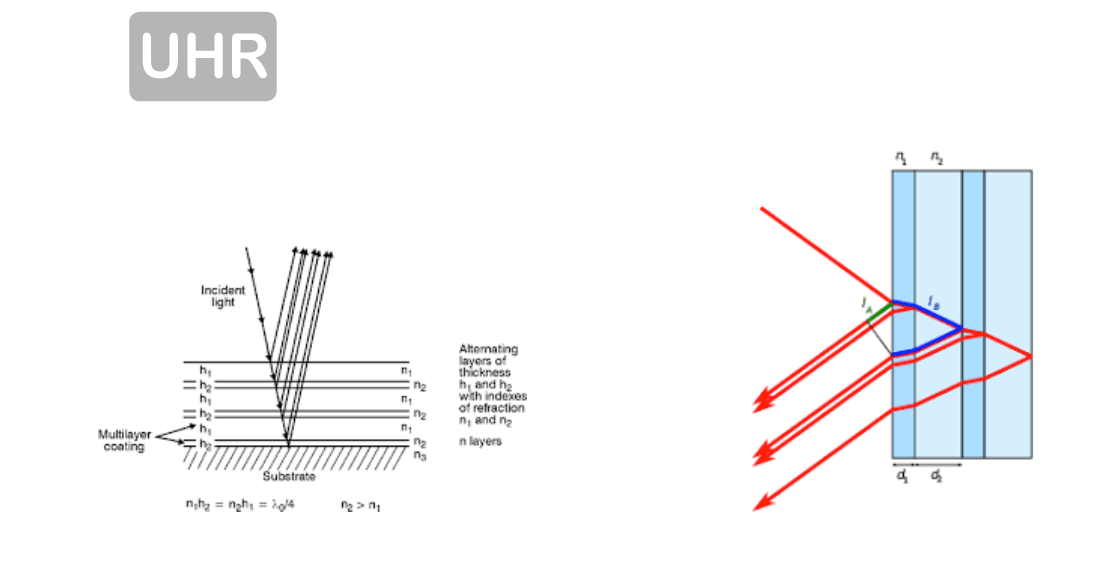 SCRATCH RESISTANT PROTECTIVE COATING, LONG DURABILITY
Yirro-plus mirrors have a multi-layered reflection coating which reflects 99,9% of the light. On top of the last coating, a special protective, scratch-resistant coating is added for protection during the cleaning and use.
Yirro-plus® mirror coatings show a very long durability. The use of the cleaning stand (Cleaning box '6') enables you to clean and disinfect without unnecessary scratching the reflective surface. By use of no-SPOT caps (only during sterilization!) during autoclaving, you can further prolong the lifetime.
NO-SPOT AUTOCLAVE CAPS
During the dry phase of autoclaving, the water drops (containing particles!) deposited on the instruments may become quite rigidly fixated. This is not a problem for regular instruments. However, on ultra high reflective front surface mirrors most tiny spots immediately become visible. Please be careful when trying to 'rubb' clean a dielectric mirror surface after sterilizing, you may cause unnecessary wearance.
When sterilizing dielectric front surface mirrors, always use an autoclave cap. The simple solution prevents rigid fixation of any particle on the mirror surface. Some soft spots may still occur, but you can easily rinse-off or whipe clean the mirror surface with a sterile microfiber or gauze.

​